Hello,
I have created a PCB of the circuit in the schematic below, with the full bridge consisting of EPC2021 devices. The driver is TI LM5113, with a 4.7 ohm turn-on and no turn off resistors in place.

Unfortunately, as the input current is increased, I see some ground jumps in the gate signals, followed by a high-frequency oscillation (~120MHz). I'm trying to figure out what is the cause of this problem, so far I'm thinking it looks like a common source inductance problem on the gate drive and power loop (?), as also changing the turn-on gate resistors doesn't seem to have much effect. However, I've designed the board so that the gate and power loop currents flow at 90 degree angle (so hopefully zero mutual coupling), and also have source vias to return the current to the gate almost on the device's source pad. I'm attaching the problematic waveforms, if someone has encountered waveforms like this, I'd be very grateful for some insights.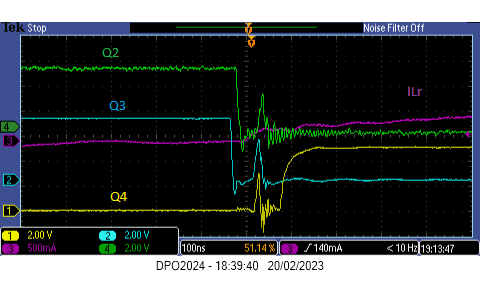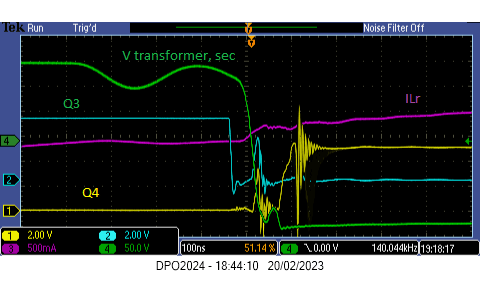 However, this phenomenon doesn't seem to appear on the opposite transition (low->high) of the transformer.